24ct vermeil Red coral horn 'Corallium Rubrum' around 20mm
Article code: Zwk61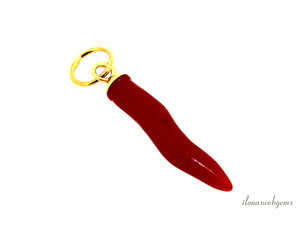 - 100% natural - Origin: Mediterranean Sea - Color Old Dutch - Thickness approx. 3 mm
Size and shape may differ from the photo. Each cone is slightly different. Size as an indication.
Voor 16 uur besteld op ma, wo, vrij

on Mon, Wed, Fri tomorrow at home

Not satisfied, money back

100% guaranteed

Free delivery

for orders from €60,-
Notify me when is back in stock
Laat je e-mailadres achter en we sturen je een mailtje wanneer dit product weer op voorraad is.