Amazonite beads - for an exclusive piece of jewellery!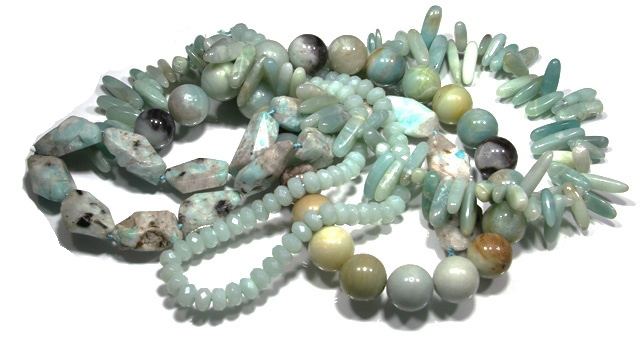 Amazonite beads
Amazonite beads come in a range of beautiful, milky opaque blues and greens with a matte to glassy sheen. The green/green-blue colour of Amazonite beads is considered to represent fertility.
Still Beautiful Today
Amazonite beads were first found in the Neolithic Age (about 10000-3000 BC) in Palestine and Egypt. Since then, Amazonite beads have been used to make jewellery. In North African countries, Amazonite beads were worn as a substitute for Turquoise beads. This is because Turquoise stones could not be found in the North African soil.
Symbolism
Do you wear jewellery made with Amazonite beads? These stones are known to soften anger and bring calmness. Additionally, Amazonite brings balance to extreme mood swings, sadness, anxiety, fear, trauma, worry and grief. Wearing these beads aids headaches that result from emotional tension.
Amazonite also protects against negative energy, electromagnetic radiation (mobile phones, computers, microwave ovens) and the harmful effects of environmental pollution
Locations
The name Amazonite or Amazon Stone refers to the Amazon River. Around the year 1800, a greenish stone was found in the Amazon. At the time, they thought it was Amazonite but it actually turned out to be another stone. The name Amazonite is therefore based on a misunderstanding. The question is whether it not the Amazonite stone even has anything to do with the Amazon! Either way, Amazonite cannot be found in many places. Recently,  Amazoniet has been found in the United States and even in Madagascar. 
Zodiac Sign
Amazonite belongs to Virgo (August 24 - September 22).