Holland Hallmark Silver plater: Self-plating 150ml
Article code: Wi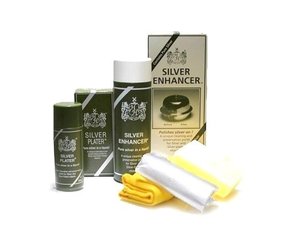 Easy to use, Fantastic result! Apply to a substrate of copper (alloy), dry and rub.
Self-cashing: Restore your bare silver and silver objects yourself!
Self-silvering: You can do a quick and simple restoration of silver-plated and silver objects yourself with Silver Plater
Silver Plater is a very special polish It consists of a unique combination of non-toxic, non-abrasive and non-flammable ingredients and pure silver This makes a miraculous silvering by simply polishing and rubbing It cleans, polishes, silvers and gives a fantastic shine at the same time protects against attack
silver-plated objects
All your silver-plated items, which show wear with abrasive polishes through years of polish, you can easily silver yourself again with this product. Because it contains pure silver, you add a new layer of silver to your object while brushing it. It restores your objects with pure silver , while you actually only polish!
Do you have silver-plated objects through which the basic metal such as copper, brass or bronze comes through? Restore them to their former glory by applying a new layer of silver every time you polish them with Silver Plater. There is really always a copper (in the alloy) basis needed to achieve the desired effect.
full of silver objects
Also dull and worn full-silver objects can be provided with a thin layer of shiny new silver, a new 'flash plating' This will give your object its original new silver shine back Old silver (yard) pieces let you shine by brushing shine again as they once looked
Silver Plater can be used on worn objects with a base metal of copper (red), brass (yellow), bronze (brown), alpaca (yellow / gray), German Silver (greyish) and of course on silver It is not suitable for silver plating of glass, porcelain, plastic, wood, aluminum, chromium, iron or other non-copper-based alloys
Easy and successful insurance
The use is very simple: apply the liquid, rub in, wait for a moment and rub or wash! A complete manual is supplied, of course, but it is really easy and knowledge of silver restoration is not necessary
Can be used for all kinds of objects such as cutlery, decorative objects, scales, clocks, trophies, heirlooms, etc.: up to 95% restoration success guaranteed
Voor 16 uur besteld op ma, wo, vrij

on Mon, Wed, Fri tomorrow at home

Not satisfied, money back

100% guaranteed

Free delivery

for orders from €50