Als je denkt aan Ibiza, denk je waarschijnlijk direct aan de heerlijke stranden, het zonnige klimaat, de hippiemarkten en bruisende feesten. Wist je dat Ibiza een echte eigen stijl heeft als het gaat om interieur, kleding en sieraden? Dit wordt ook wel 'Ibiza chic' genoemd. Best bijzonder, want het is vrij uitzonderlijk dat een eiland zo'n uitgesproken eigen stijl heeft die over de hele wereld wordt gebruikt.
Een trend die de afgelopen jaren steeds populairder is geworden, is het dragen van Ibiza chic sieraden. Deze sieraden hebben een unieke stijl die de relaxte, luxe en tegelijkertijd bohemien sfeer van het eiland weerspiegelt.
Wat is kenmerkend voor Ibiza chic?
De Ibiza chic stijl wordt gekenmerkt door bohemien invloeden, die tot uiting komen in de sieraden. Het gebruik van natuurlijke materialen in prachtige verschillende kleuren is de basis voor een sieraad in Ibiza chic. Denk aan materialen zoals edelsteen kralen, Zoetwaterparels, Howliet kralen in felle kleurtjes en Bloedkoraal. Deze materialen worden vaak gecombineerd met goudkleurige accenten om een vleugje elegantie toe te voegen. Het resultaat is een unieke mix van bohemien en luxe.
Stijlvol met Ibiza chic
Tegenwoordig staat de Ibiza chic stijl voor luxe en verfijning. Het geheim van een Ibiza chic stijl zit hem in het vinden van de juiste balans tussen elegantie en de hippie-achtige look die Ibiza in het verleden vooral kenmerkte.
Verwerk bijvoorbeeld een opvallende gekleurde hanger in een delicate gouden collier en combineer het met je favoriete zomerjurk. Voeg subtielere armbanden en enkelbandjes toe en je hebt meteen die onmiskenbare Ibiza vibe te pakken. Of ga voor een paar opvallende statement oorbellen in combinatie met een simpele jeans en een luchtige blouse voor een moeiteloos chique uitstraling. Durf te experimenteren, speel met verschillende lagen en combineer materialen en kleuren op een manier die bij jou past. Zo creëer je jouw eigen unieke en stijlvolle Ibiza chic look.
Mix van stijlen
Ibiza chic sieraden kunnen worden gecombineerd met verschillende kledingstijlen. Of je nu een bohemien zomerjurk draagt of een casual jeans en T-shirt, deze sieraden passen bij vrijwel elke outfit. Ze voegen een vleugje glamour en authenticiteit toe, waardoor je er moeiteloos stijlvol uitziet. Probeer bijvoorbeeld een paar opvallende oorbellen te dragen bij een eenvoudige outfit, of voeg een handvol armbanden toe aan je pols voor een speelse touch.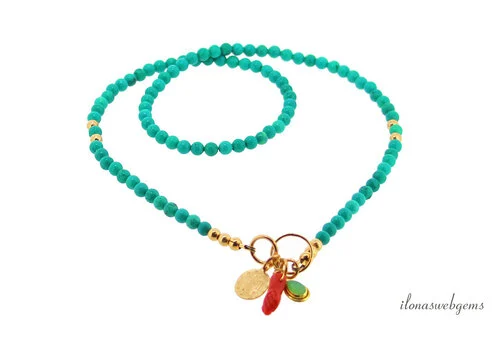 Layeren van Ibiza chic sieraden
Een van de kenmerken van Ibiza chic sieraden is de mogelijkheid om te layeren. Dit betekent dat je meerdere kettingen, armbanden of enkelbandjes tegelijk draagt. Door verschillende lengtes, texturen en stijlen met elkaar te combineren, creëer je een interessante en speelse look. Bij het layeren van sieraden is het belangrijk om een balans te vinden. Kies bijvoorbeeld voor een statement ketting als eyecatcher en voeg daar subtielere armbanden en enkelbandjes aan toe.
Zelf Ibiza sieraden maken
In onze webshop vind je alles om zelf sieraden te maken die perfect passen bij Ibiza chic. De duurzame materialen zijn van hoogwaardige kwaliteit en gaan jarenlang mee. Maak de sieraden voor jezelf of verras iemand anders met elegante zomerse sieraden in Ibiza chic stijl. Bekijk hier alle prachtige items die je kunt gebruiken bij het maken jouw Ibiza chic sieraden.